Why at300
Robust, fast and unstoppable,
high productivity workflow
The UTITA AT 300 NC lathe is part of CNC Centri di Lavoro Srl's High Performance Engineering range. Produced in different turning lengths, ranging from 2,000 mm (2 m) up to 10,000 mm (10 m) in increments of 500 mm (0.5 m). The structural design gives the lathe impressive rigidity, which is an advantage during both demanding machining processes and finishing work.
Accuracy and
quality

Reliability and
performance
customisation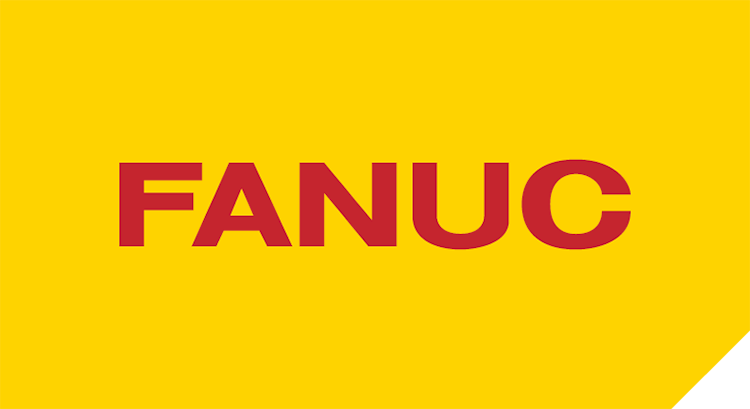 Automation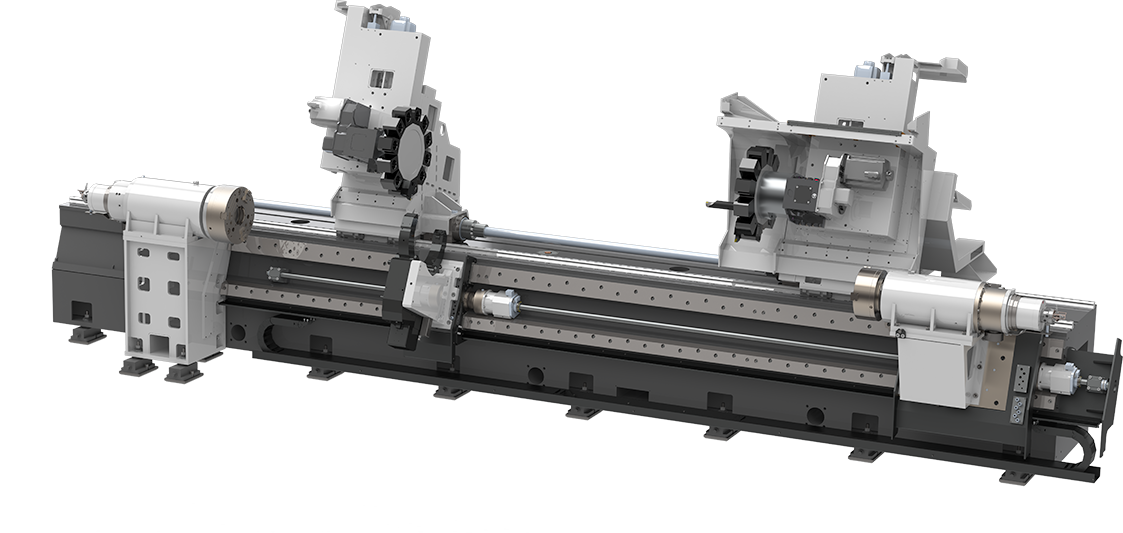 "X-Z" axis turning carriage complete with "Y" axis
The turning carriage features electrically welded construction, with a stabilized and normalized structure in which room has been created to assist with load equilibrium and balancing in order to ensure stability during machining processes. It comprises 3 pairs of recirculating roller bearing linear guides.
Second carriage above head "x2" — "z2"
Electrically welded, stabilized and normalized structure to deliver rigidity and stability during turning, milling and drilling processes.
Torque motor headstock
The headstock comprises a through-hole chuck spindle with ASA nose, fitted on a set of three front bearings and a pair of preloaded rear bearings with NC-driven centralized lubrication.
Tailstock
Feeding along the axis is achieved by means of a ball screw for lengths up to 3,000 mm (3 m), while for greater lengths it is handled mechanically with a zero-play rack and pinion system. Positioning control is monitored by means of an optical linear encoder.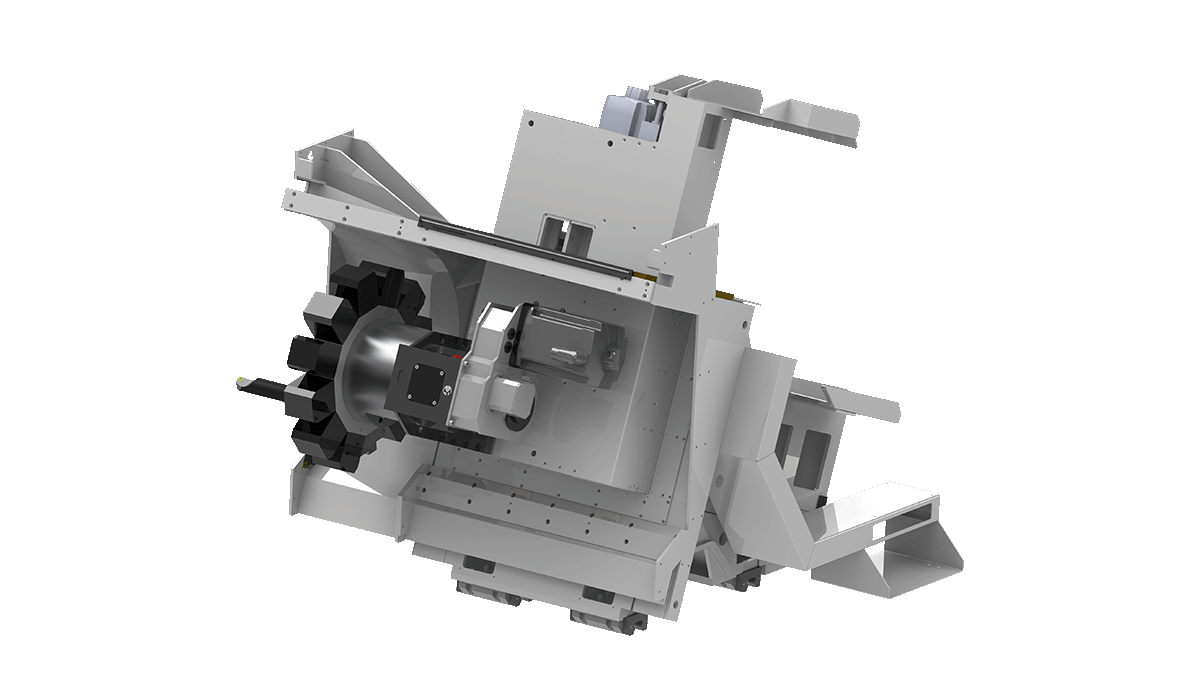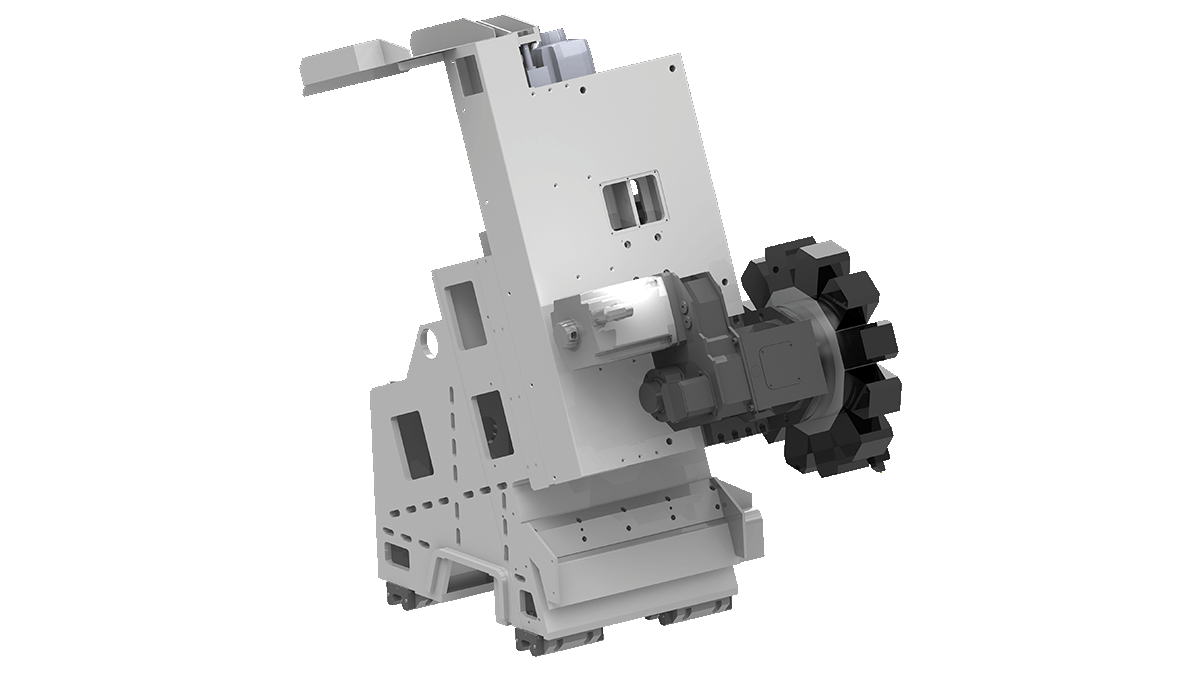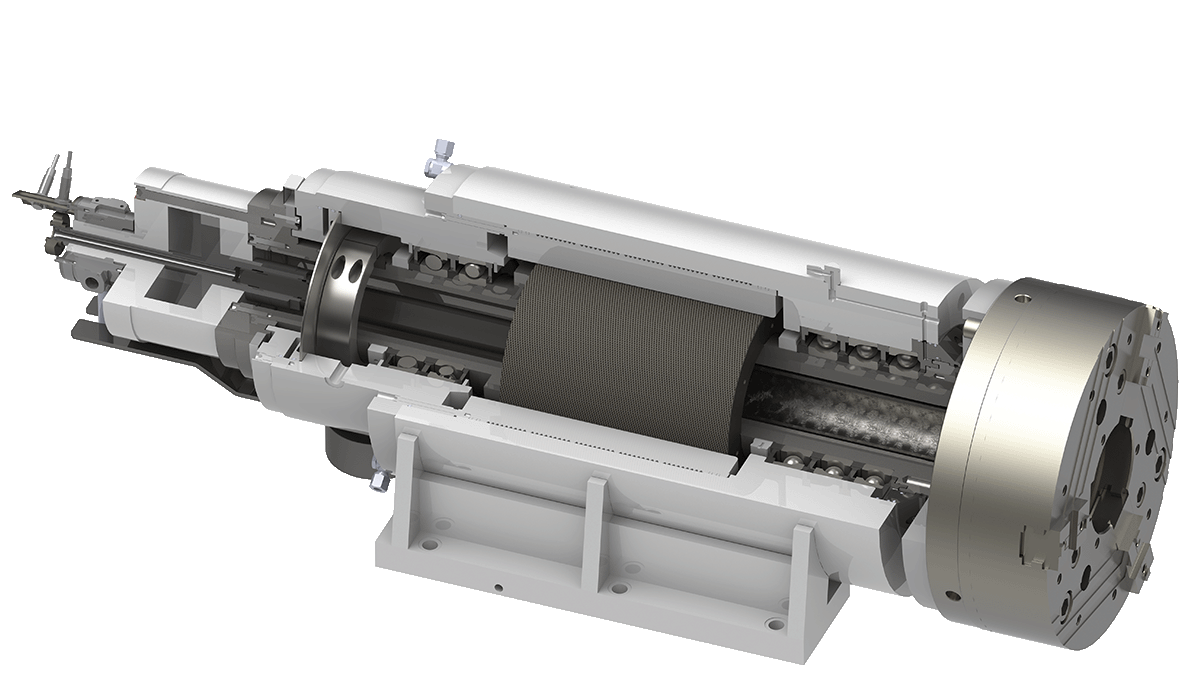 Accelerate quality and drive evolution
The structure has been designed to achieve outstanding goals that meet the needs of the most demanding operator. Easy access to the work area for part loading and unloading and tool inspection is combined with simple operation of the on-board controls. A fundamental element of the machine is its compact structure, which gives the lathe a high degree of rigidity, necessary both for machining with high stock removal and for high-speed finishing operations.
The range of compatible accessories, such as rotating tools, "C" axis, "Y" axis, fixed or trailing steady rests, customisable tool discs, "TILTING" tool-holding headstock and tailstock, contribute to the lathe's move towards the most complete level of automation, making it a truly integrated turning cell.
The base and table form a single monolithic block in a stabilised and standardised electro-welded structure.

It has two pairs of guides:

The upper ones (Z axis), of the linear recirculating roller type, are on the upper side of the bed

The lower ones, hardened and ground (for tailstock and steady rests), are on the bed.

The turning carriage (Z-X axes) consists of 2 (two) slides running on linear recirculating roller guides. (OPTIONAL "Y" AXIS) On the lower part of the carriage is a device for pulling and positioning the tailstock and the steady rests.

Axis movement:

Z axis: With ball screw or rack and pinion, with backlash compensation system

X and Y axes: With ball screws.

The position control and the position measuring system are by means of pressure optical scales.

Spindle head with Torque Motor. The spindle, with ASA 8″ coupling, is mounted on three front and two rear preloaded bearings with long-life grease lubrication.

It can be equipped with continuous "C" axis with Torque Motor with parking brake. (optional)
Turning

4-axis turning

Reaming

Camshaft milling

Drilling

Boring

Milling
Fluid power

Oil & gas

Printing industry

Plastics

Machine manufacture

Automotive

Aerospace

General engineering

Energy technologies
Technical specifications

ASA 8″

ASA 11″
The minimum turning length with one or two steady rests is calculated for workpieces measuring 2000-4500 mm in length
Working range
Max. swing over bed
mm
560
Max. turning swing
mm
500
Max. turning swing with steady rest
mm
350
Minimum turning length with one steady rest (*)
mm
480-690
Minimum turning length with two steady rests (*)
mm
1100-1260
Max. turning length
mm
Multiples of 500
Maximum weight between centres
kg
7000
9000
Linear axes
X-axis travel
mm
320
X-axis rapid feed
m/min
20
Z-axis travel
mm
Multiples of 500
Z-axis rapid feed
m/min
25
Y-axis travel (optional extra)
mm
+90 0 -90
Y-axis rapid feed (optional extra)
m/min
13
Main spindle with torque motor
Spindle nose — DIN 55026
ASA
8″
11″
Max. speed of rotation
rpm
2000
1500
Rotation speed at the bend
rpm
430
300
Nominal torque at the S1 bend
N/m
1200
1900
Nominal power at the S1 bend
KW
52
57
Self-centring chuck diameter
mm
325-340-400-500
Sub-spindle with torque motor
Spindle nose — DIN 55026
ASA
6″ – 8″
Max. speed of rotation
rpm
2200
Rotation speed at the bend
rpm
450
Nominal torque at the S1 bend
N/m
700
Nominal power at the S1 bend
KW
30
Self-centring chuck diameter
mm
260-315
Hydraulic tailstock
Quill diameter
mm
180
Quill travel
mm
160
Morse cone
CM 4/5
Max. speed of rotation
rpm
2000
Numerical Control
Fanuc
Serie
30i-BPLUS